---
Chirality induced by circular polarized light
This page will be updated soon.
Thanks.

Figure 1:Chirality of herical structure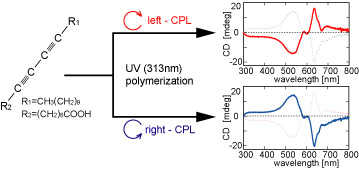 Figure 2:Observation of circular dicroism of poly-diacetylene films polymerized by circular polarized light irradiation.
Recent Progress
[1] T.Manaka, H.Kon, Y.Ohshima, G.Zou and M.Iwamoto, "Preparation of Chiral Polydiacetylene Film from Achiral Monomers Using Circularly Polarized Light",
Chem. Lett., Vol.35, pp.1028-1029 (2006 Sept)
.